How to Delete Telegram Account Permanently
If you no longer want to use the Telegram messenger, then how do you delete Telegram account on Android, iPhone and desktop permanently.
Undoubtedly, Telegram is the best instant messaging app available for smartphone users. However, if you want to know how to delete a Telegram account permanently, then this guide could be helpful for you.
This instant messaging is more than just a messenger, because you can do a lot of productive works here. If you don't know how it is different from other messaging apps, then let me explain to you regarding this. The biggest competitor of Telegram is WhatsApp. I agree that WhatsApp has more users than Telegram but the features on Telegram are unbeatable.
Besides sending multimedia files, it allows you to send all type of files without the size limit. The cloud-based app stores your messages in encrypted storage. This technique helps you to retrieve your old messages after changing your device.
This is free since you can use it cloud established or even Telegram app through your preferred source of Apps. The app is really cool as it comprises great features also you might have group chats with your friends and have fun via stickers and sending emojis.
The app is truly fast since it provides the instant messaging feature that you may send and receive messages immediately. But, if you really permanently delete account in Telegram, then here is the guide for you.
How to Delete Telegram Account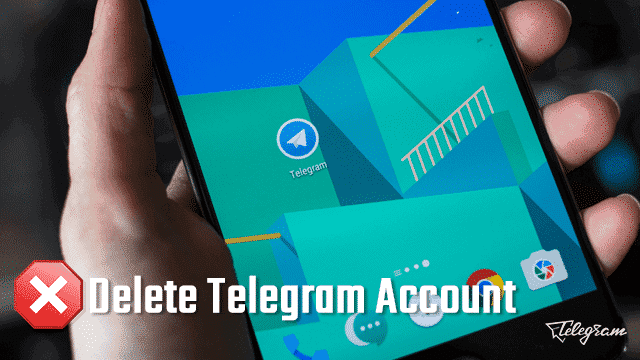 In this tutorial, I am going to show you how to delete Telegram account on iPhone as well as Android in two different ways. Before going to the procedure, keep one thing in your mind that deleting your account permanently eliminates all of your messages, groups, and contacts. This activity must be verified via your Telegram accounts and can't be undone.
There may be several reasons to deactivate Telegram account. Suppose you have multiple accounts and you want to keep only one account, or you are not interested in using Telegram anymore, then you can perform this task.
Warning! Please only delete your account if you no longer want to use Telegram. If you delete your account now, it may be not possible to sign up again for several days. So, instead of deleting your account, you can change your number.
If you are interested then, then you should read the proven ways to increase Telegram channel members quickly. Well, without wasting your time, let's do it.
Delete a Telegram Account Automatically
If you quit using Telegram and don't log in for at least 6 weeks, your account will be deleted automatically. However, not delete all of the messages, media, get in touch with these may be kept on the telegram cloud servers.
Suppose, you are not using Telegram messenger for a long time and finally decided to delete the account for Telegram, then you can do it from its Settings. In order to do that,
1. In your Telegram app, navigate to Settings → Privacy and Security → Account self-destruction.
2. Here, you can set the time to 1 Month, 3 months, 6 months or 1 year.
If you'll not use Telegram at least once within this period, your Telegram account will be deleted permanently. That's it.
Delete Telegram Account Authorization
You can use this method to delete Telegram account on a desktop browser or from your smartphone. Make sure that the mobile you have used to create that account is available for validation. I don't think any social media application is providing this type of facility. Well, let's do it.
1. First, go to the Deactivation page
2. Here, put your mobile number in the International format which you want to delete.
3. You'll receive an SMS with a unique code. Enter that confirmation code and press the Sign In button.
4. On the next screen, press the Done button.
5. You'll see a warning popup screen asking Are you sure? Just press "Yes, delete my account" button. That's it. Your Telegram account is successfully deleted.
Hope you liked the guide on how to delete Telegram account permanently. These are the official ways to delete a Telegram account on Android, iOS, and Desktop.
These methods are available on Telegram's Privacy Policy page, but I shared it with details. If you like this post, then share it with your friends and if you have any suggestion or query regarding the tutorial, feel free to comment below.