How to Add Stickers to Telegram
You don't need to worry about how to add Sticker Pack in your Telegram messenger. You can follow these steps to add stickers collection on Android, iOS and Windows.
How can I add stickers to Telegram? It's easy. Telegram messenger has the ability to add stickers to your account. Later, you can use them to send with your contacts.
Stickers are the great invention of this century. You can say, these are the improved version of emojis. An emoji is a small icon to share your expression with your contacts, but a sticker is better than this.
The new update in Telegram app brings the stickers to chats and groups. There is a default sticker pack available for every group, but now you can change it according to your choice.
In this way, the members of your group will get these stickers by default to use while talking with group members.
How to Add Stickers to Telegram in Android, iPhone & Desktop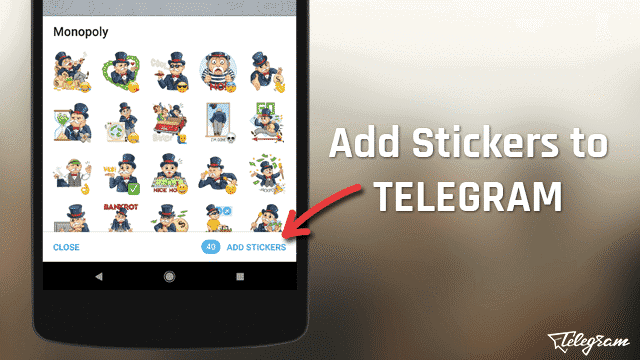 There are thousands of funny sticker packs available in the database which could make you laugh. Here I have shared four different ways to add stickers for Telegram messenger.
These methods work well in Android, iPhone and as well as the Desktop version of Telegram.
From a Sticker
This is the easiest way to add a Telegram sticker pack in your collection. If someone has already sent a sticker to you or any group, then you can easily include it in your list. Just follow the below steps.
1. First of all, tap on that sticker icon.
2. A popup window will open and visible an "Add Stickers" option.
3. After that, tap on that option and the sticker pack will be added automatically in the library.
Using Telegram Sticker Pack Link
You are free to add your stickers pack in Telegram's database. There are thousands of creative users already submitted their stickers.
You just need to get the right URL of these packs to add them to your account. You can also Google your desired packages. In order to add stickers in Telegram,
1. Click on the Sticker Pack link.
2. The link will open in the Telegram app with an option to "Add Stickers".
3. You just need to tap that option.
After that, that pack will be added to your library which you can use later to share with your friends.
Use Telegram Stickers Channel
There are few channels available in Telegram that shares daily new sticker packs for the users. If you join these channels, then it will be beneficial for you to find new stickers every day. The best channel for daily stickers is Stickers Channel.
1. Once you join this channel, you'll see a lot of stickers.
2. You just need to tap any of your desired sticker pictures and select "Add Stickers" option.
That's it. In this way, you'll get a bunch of new stickers to use on your channel, group and with your contacts.
Make your Telegram Stickers
How to add your own stickers to Telegram? As I said before, Telegram gives the flexibility for the creators to create and publish stickers for public use. We have already shared the procedure make Telegram stickers on Android, iOS and Windows.
You just need to follow the procedure, and you can create your own stickers pack to share with your friends. Once you have done, you can use the pack link to add those stickers to your collection. That's it.
Conclusion
Well, these are the four ways on how to add stickers to Telegram. Hope, this guide has cleared all your doubts regarding stickers. If you find this helpful, then don't forget to share with your Telegram friends.