Telegram 5.11: Schedule Messages, Reminders, Themes & More Privacy
The latest Telegram update 5.11.0 brings scheduled messages, reminders, themes and more privacy for the users.
Like always this time also the developers at Telegram Messenger has brought foreword some the exciting updates for its users. So let's discuss the updates in details so that you have a clear idea of these latest telegram updates.
Again you can try for yourself these updates by just updating your Telegram App. Without any much delay, let's get started.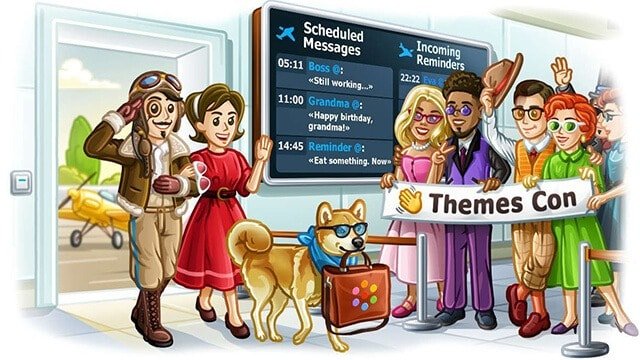 Schedule Message
By this scheduled message, you can easily plan your messages to be sent at a specifies time in future.
Again you can easily plan when to send the message in advance. For that, you just need to Hold the 'Send' button in any chat and then select 'Schedule Message'. Now the time option will appear and you need to set the time when the message will be sent.
Also, you can easily schedule your work in the Saved message chat, where you can easily make the planned post into remainders. Be it your next plan to watch a movie or having an appointment with a surgeon. Everything will be get covered with the amazing new update.
Custom Cloud Themes
Earlier you could easily customize the Telegram's appearance since 2023. While the new update further eases the task and one can easily make changes across any platform available.
Just choose the best you want for yourself from the color wheel, and the app will automatically do the rest in adjusting the elements accordingly.
Again you can easily yourself create some new themes also. For that, you can take the help of the colors and wallpapers available. Also, every theme has a sharing the link, which makes it available for anyone who wants to choose your theme and wallpaper. Just by two taps, they will be able to do so.
When you change your theme, it gets updated for all its users. Which really is very beautiful to watch around.
Redesigned Message Options
For iOS users, the message options have been kept small into a single menu for forwarding, replying, and others. You don't have to select the whole text; rather you can select the portion which you thing is important and copy it or share it. It depends on what you want to do with it.
New Privacy Settings
Telegram has introduced some of the new privacy settings in the new update. Now, telegram groups can be made public, and they can contain up to 200,000 members each.
In order to save the right of user in expressing their opinions and communicate privately. As a result, Telegram is increasing the boundaries of its Privacy Settings.
As per the Officials, If you set Who Can See My Phone Number to 'Nobody', a new option will appear below, allowing you to control your visibility for those who already have it. Setting Who Can Find Me By My Number to 'My Contacts' will ensure that random users who add your number as a contact are unable to match your profile to that number.
As a result, it will be very much difficult for any random people to contact any user who is not present in his contact list thus increasing the privacy more.
More Animated Emoji
Now the team has included more animated emojis to the group of emojis. As a result, you have now more option to choose the best emojis based on the requirement of what you are doing.
Now enjoy the new updates by just updating the telegram messenger if not done till now.