Telegram Video Calls – How to Activate?
Does Telegram have video call? Most of the people want to know the answer. That's why here is everything you need to know.
Video Calling is one of the most useful features which people are looking for. It has become a very essential need to have such a feature in one's app. Now the question arises "Is Video Calling Feature currently available on Telegram App ?". As at present only the audio calling feature is available on the official Telegram messenger. But there is more to know about it.
Recently I got a comment from one of our followers who asked like "How do I make a video call on Telegram ?". So I guess he must be a new user otherwise he wouldn't have asked me this question in the first place. Since this feature is currently very basic so everyone thought Telegram might have such a feature as well. But the answer is no, as there is no such video calling feature available on the Telegram app now, but I must say you will be seeing this feature in the coming updates for sure.
So if you also want to know when Telegram will implement this feature on its official app and how they will be going to do that, just be with us and in this article, we will be covering all such things in detail and more.
Let's dive in and find out ourselves.
Does Telegram have Video Call?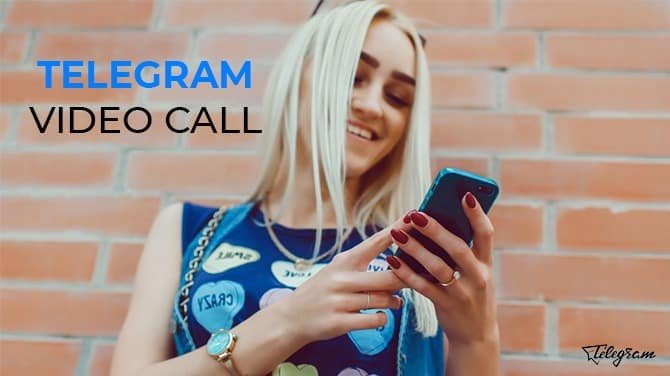 No, currently Telegram official app doesn't have an inbuilt video calling feature on their messenger. So it's a no for the Telegram users who wish to do video calls using their Telegram app.
But don't worry as the Telegram developer's team have provided a hint of developing such feature in the coming months due to the huge demand from the crowd. So luckily we will be finding such video calling or group video calling feature in the next updates it seems.
Can You Video Call on Telegram?
Yes, video calling is possible in the Telegram app but not using its official version. Instead of that, you can use its alternative i.e Videogram.
These alternatives like videogram and others have this feature available to be used currently. And if you are one of those to try out yourselves then please proceed and find out yourself. And don't forget to comment on your experience below so that others will be benefitted from it as well.
How to do video call using Telegram messenger (app)?
Like I said before, as of now the video calling feature is not available on the Telegram messenger. But yes you can do the audio call very efficiently on the app. Again if you want, you can record the message in video format and send it to your near dear ones if you wish to.
For that, you just need to point your camera and record the message you want to convey and just send the saved video using the Telegram app. This will be more like a video message than a regular video call. But since the feature is not available this solution will work now.
Telegram Adding Secure Group Video Calls this Year
It's good news for us the Telegram users that we will be getting our long-awaited group video calling feature on our Telegram messenger. As per the officials, the developer team is currently working on this feature only. And by the end of this year, we are going to look at the video calling feature being implemented on our regular messenger.
At present the other apps which are providing the video calling feature or group video calling feature are going through a lot of security issues. As the end-to-end encryption followed by these apps are not trustworthy and any uninvited user can easily tap into video calls.
So keeping this in mind, a more secure video calling feature is being developed by the developers which are indeed the need of this hour.
So hopefully towards the end of this year, we are going to get this video calling feature in our official Telegram messenger as well. Let's hope this to be more secure than others.
In a blog post, Telegram promised on adding support for group video calls —which will be having with security as well — later this year:
Let me quote what the officials have said over this:-
What's next, you might ask? The current global lockdown highlighted the need for a trusted video communication tool. Video calls in 2023 are much like messaging in 2013. There are apps that are either secure or usable, but not both. We'd like to fix that, and we will focus on bringing you secure group video calls in 2023.
When will the Video Call Feature be Implemented on the Telegram App?
By the end of this year, the video call and group video call feature will be implemented on the Telegram app. As per the records, the Telegram has always made clear to provide the best quality, speed, and security feature in its messenger. For that, they need some time.
Again we should definitely be expecting a lot of innovation as well from Telegram since they always try to implement some useful featured as well.
How Telegram video calls are going to be the best before its competitors?
Telegram being a Free Instant Messenger always prefers to provide more useful features to its users. Again with that, they want their app and features to be more safe and secure also. Let's have a look at the features which we will be getting in the video calls.
Secure
Like Telegram Calls and other features, the video calling or group video calling feature is going to be more secure than its competitors. As here the developers will be testing the end-to-end encryption of this video calling feature more than once in order to make it more secure. And the Telegram Audio Call is the example before us.
Super-Fast
The video call feature will be of Super Fast speed like always. They are planning to develop this feature in such a way that it will enable the users to enjoy the video calling in a slower network as well. For that, they would be using the best video and audio codecs in order to save traffic while providing crystal-clear quality.
Telegram always tries to use the closest server to the user so that the video calling happens in the fastest way possible. In comparison to its competitors, Telegram has a distributed infrastructure all over the world, and these servers will also be used for video calls as well.
AI-Powered
AI-Powered technology will be implemented for conducting the Video calling in Telegram. So that this will optimize a lot of parameters, automatically improving the quality of the video call on any given device and network.
Telegram Calls are already superior to other available providers, now they are just repeating it with Video calls as well. All thanks to the built-in machine learning.
Can you do video calls on Telegram?
No at present there is no option available to do video calls on Telegram. But this video calling feature is being developed and by the end of this year, it might get implemented on the app as well.
Is Telegram Video Calling Safe?
Yes, like the Telegram Audio Calling feature, the Telegram Video calling feature is going to be safe and secure as well. For providing such security a lot of new technologies are being implemented as well.
How can I use Telegram video?
Telegram Video Calling is not present currently but yes, you can do use the Telegram Video feature and shoot the video in your device. Later you can send the saved video to your friends or family.
Does Telegram have Group call?
No, Telegram doesn't have a group call facility currently. But in the coming times, we will definitely get that feature as well. Again Telegram Video Conference feature will also become reality.
Telegram Group Video Call Limit
Whenever the video calling feature will launch there will be no time limit for the group call. Everything will be unlimited. That means you can enjoy video calling as much as you can with your friends.
Conclusion
Very soon the Telegram Video Call is going to be a reality. And with that, we should definitely be expecting some more awesome features as well. Here in this article, we have discussed the Telegram Video Calling feature in detail.
Again there is a lot of things that are associated with the Telegram Group Video Calling as well. I have provided all the things which are necessary for you to learn and understand. Going forward I will update it if I find any more informational thing which is relevant to this context.
For that, you need to bookmark our site so that you will be getting all necessary updates regarding Telegram Messenger. Stay tuned for more such updates.