How Does Telegram Make Money
All the services on the Telegram are free, then how does Telegram app make money? Here we have covered the details regarding this topic.
Attention, tech enthusiasts and curious minds! This question is "How Telegram Makes Money"? Have you ever wondered how an app that boasts over half a billion active users manages to stay afloat without bombarding you with pesky ads or demanding a hefty subscription fee? Brace yourselves for a jaw-dropping revelation: Telegram, the popular messaging platform, has cracked the code to financial success while preserving user privacy and experience.
In this article, we'll dive deep into the enigmatic world of Telegram's revenue model, uncovering the hidden gems that make this messaging platform not just a technological marvel, but also a thriving business. Get ready to unravel the secrets behind Telegram's financial wizardry as we explore its ingenious strategies for monetization, its unique position in the digital landscape, and the impact it has on the broader messaging app ecosystem. Get ready to be amazed, as we unveil the captivating story of how Telegram makes money while keeping you connected like never before!
How does Telegram Earn Money for its Operations?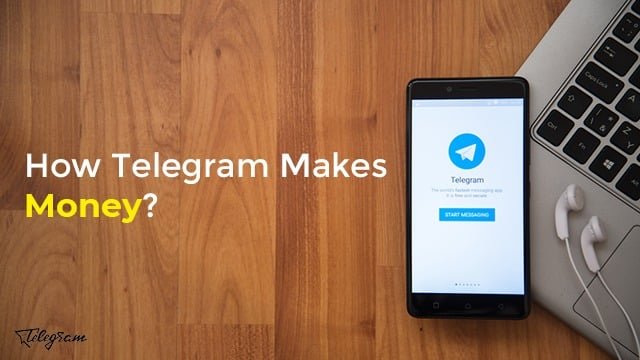 Telegram may have grown itself as a very much popular messaging app. But one thing I want to make you very much clear, i.e. Telegram has not made any amount of money since in launch in 2013, but yes its has raised over $1.7 billion in Initial Coin Offerings throughout 2023.
Again it raises money from donations given by its genuine users. Telegram wants never to use any kind of ads in its network.
But having said that, it surely wants to grow as well but being 100% free all the time. Let's have a look at the Telegram business model. Before jumping that, don't forget to read how Telegram messenger works.
The Back Story of Telegram
The back story of Telegram is quite impressive. Both the brothers Nikolai and Pavel Durov have to struggle very hard in their early life as entrepreneurs. They may have developed a very successful startup in Russia (their country of origin), but due to some reason, they had to sell it and move out of their own country.
The duo brothers had mad a social network in Russia when Facebook was becoming popular in the USA. They launched it in 2006 in the name of VK (Vkontakte).
This social media app was very much popular in Russia and Europe as well. But due to some reason they had to sell the company. Later they began working for Telegram.
How Telegram Makes Money 2023?
Speaking about the money generated by Telegram as of 2023, it's actually nill. Telegram doesn't generate any kind of revenue from its App.
It's Founder Durov has himself pointed out in a blog post that he "believes in fast and secure messaging that is also 100% free."
And again on the same blog post, Telegram notes that if it were to run out of money, it might introduce "non-essential paid options" to supplement developers' salaries.
From this, it's actually very much clear that they are in no mood to generate money from the app selling adverts. But they value more to the customers and want them to use Telegram freely and enjoy all its features.
And be very much clear that Telegram mainly generated money from donations provided by people all over the world.
Will Telegram Make Money with Ads in the Future?
Based on the views shared by Durov, it's quite clear that he has no plans to include ads on the platform in the future. And yes, till Gurov is in charge, he wouldn't allow it to happen also. But after him, maybe we can find some ads on the platform in the future.
Let's read a paragraph from one of his blog posts.
For us, your private data is sacred. We never use your data to target ads. We never disclose your data to third parties. We store only what is absolutely necessary for Telegram to work.
What Makes Telegram Different from Others?
Let's discuss the features which make Telegram different from others. And, the reason how Telegram channels make money.
1. Storage
Telegram uses Cloud Storage for its operation. Here the user's data is stored on the cloud so that it can be accessed by them anywhere and by any devices whatsoever.
Again, they don't need to create a backup of those data as it's safe and secured in the cloud.
Users can easily keep track of the sessions and can easily download the files at any time, which makes cloud storage more data accessible for the user.
2. No Quality Compromise
Many messaging apps used to compress the data before sending them through them, but Telegram provides an option to its user to be able to send their data in uncompressed form.
As a result, a user using Telegram gets their data in the original form of what they have sent actually. But that's not the case for other messaging apps where lossy data transmission actually happens.
3. File Size and Type
Telegram allows its users to send the maximum size of data up to 1.5 Gigabytes. Users can easily send such a massive volume of data at a time.
Again having Cloud Storage features enables users to stream the video before even downloading them. Again downloading process can go along in the background, which makes video previewing easy.
4. Security and Privacy
The main reason for the popularity of Telegram is its security and privacy. These two ideas are strongly bonded to the company's motto. Protecting those they have come so far and also continuing to grow as well.
But Telegram's Future looks quite good, but they need to figure out the ways to generate money for the smooth running of their product, without using any kind of ads in their platform.
Having so many free features and the dynamic security nature of Telegram will gradually be able to become the fastest growing messenger app and increase its existing user base.
Again since it does not spend a single penny on marketing, users must be assured of its originality as a product. Also, the statistics that come out of Telegram is purely organic as well.
Conclusion
Till now, you must have known the reasons how Telegram makes money 2023. I can assure you that here in this blog, you will get in-depth articles regarding Telegram.
We have really done our homework well in finding the best only for you. If you are still not happy with the reasons how Telegram is making money, then feel free to comment on us regarding your views upon that.
Please do share it if you like the post.