Telegram vs Telegram X – Which One is Better?
Telegram X is an improved version of the original app with new experimental features. But, is Telegram X better than the traditional app?
Which one is better; the traditional Telegram or Telegram X? You have already well acquainted with the most popular messaging app "Telegram". Telegram offers distinctive features including self-destructing messages, the ability to edit already sent messages and lock chats with a password, a secret chat that uses end-to-end encryption meaning nobody but the sender and recipient can read the messages.
It is also cloud-based, meaning messages can be sent and accessed from multiple devices, including desktops. At present telegram have over 200 million users which is one of the most popular messengers on the market.
Recently this year in the month of January Telegram has launched its new improved version namely Telegram X which is built to be noticeably faster and smoother than the original app.
Telegram X is completely separate from the main telegram and is based on a new code base. It includes all the basic messaging features from the regular Telegram app, but there are some extra new features too.
That includes a bubble-free messages view that expands photos to full size, a new preview feature that lets you tap and hold on any chat to preview new messages and new gesture shortcuts that lets you quickly switch between tabs.
Telegram Vs Telegram X Comparison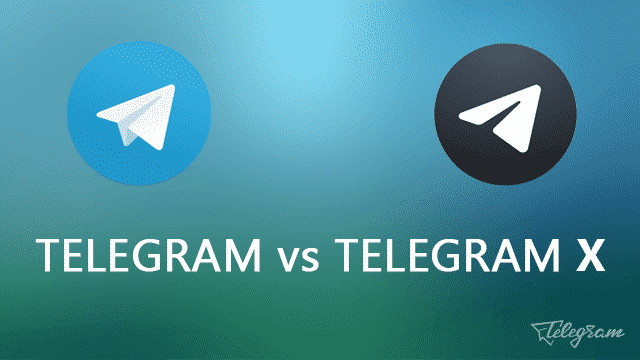 Is Telegram X better than Telegram? We all know about the cool features of Telegram but you might be amazed at what new features you are getting in Telegram X that differs from the original app.
Here I will be comparing Telegram X vs Telegram, after reading this you may get a conclusion of which one is best for you.
1. Home User Interface
When you open Telegram X, the first thing you will notice that the home user interface is slightly different as compared to the regular Telegram app so telegram users will feel familiar while using it.
In Telegram app, you will get the call options inside the chat menu and its history on the main menu whereas on Telegram X, chats and calls are separated by tabs which are similar to another popular messenger WhatsApp.
Another major difference between these two is the ability to display images in X version without creating margins on the images. This makes the images look much more comfortable and full screen as compared to Telegram where the images are sent with a frame which makes the image appear to be much smaller in the chat environment.
The speed of the X app is visibly faster as moving back and forth between menus and chats feel smoother and faster than the original Telegram app.
2. Night Mode
In Telegram X there is a dedicated Night mode tab in the menu on the left from where you can access it directly whenever you need it. But in Telegram, there is no night mode option rather you may change it into dark mode from theme within the settings to get the identical effect.
The astonishing fact of this feature is that it will automatically convert into the night mode through light sensor technology used in it.
3. Bubbles Mode
Another new feature of X app is a "Bubbles mode" which is not available in Telegram app. The function of this mode will allow you to give more space within the chats for better placement of the text and media in the messages; it also emulates the standard way of viewing messages in text bubble form.
4. Saved Messages
The cool feature embedded in X is found within saved messages. It is the place where Telegram X grants you quick access to all your shared media files, posts, and documents. And all this stuff will be tabbed on X app.
It will be easier for us to locate our saved posts much faster than the Telegram app. In the Telegram app, it will take quite a few steps to locate saved messages and for that, you are forced to tap on the Saved Messages icon then tap on the drop-down menu to access the tabs.
5. New Gestures
Several new swiping gestures have been added to chats. You will be able to swipe left or right in the conversation list to switch between chats or calls. If you swipe right on a message you are able to share it and if you swipe left you can reply to it.
Another feature of X has chat previews, this feature has the ability to display the contents of the chat page, without opening it. For this, you can long-press on any chat and wait for a pop-up with the new messages to appear atop the conversation list.
This feature is, in fact, a more interesting type of "ghost mode" in the Telegram. In this way, without having to open the chat page to see the received messages, you can read a message without appearing the tick sign for that message.
This feature not only works with individual or group conversations but can be seen in the calls tab as well. You can also get a bunch of options like mute, pin, delete and open at the bottom of the previews.
Conclusion
We hope we had clear all the important features of the new Telegram X and gave you a detailed comparison of Telegram Vs Telegram X. If you like the features of X version then must switch from Telegram to this app and tell us your experience of using it.
If you like this article then do share it with your friends and don't forget to tell us your views regarding Telegram X.