How Secure is Telegram? Is it more Secure than WhatsApp?
Since its launch, Telegram has grown in popularity in the secure messaging category. Let's find out is it secure than other messaging apps.
Do you know how secure is Telegram? This question has always been a frequently asked question on a platform like Quora or Reddit. Telegram users and also non-users are very much concerned about the security of the Telegram app.
Compared to other messaging app Telegram appears to be more secure than its competitors like Whatsapp and Line.
But do you know what features make Telegram more secure than other messaging apps? Please read the article thoroughly to know the exact answer to the asked question.
According to many security, researchers Telegram is more secure than mass market messengers like WhatsApp and Line.
They are based on the MTProto protocol. Also, this messaging app is built upon time-tested algorithms to make security compatible with high-speed delivery and reliability on weak connections.
These algorithms are rigorously tested on various conditions. Also, the technical team is continuously working with the community to improve the security of their protocol and clients. Well, let's discuss how much secure is Telegram.
How Secure is Telegram App
Talking about the essential security features, the Secret Chats are the most significant ones. Telegram's Secret Chats are quite secure. Because, no one except you & your recipient can read your messages.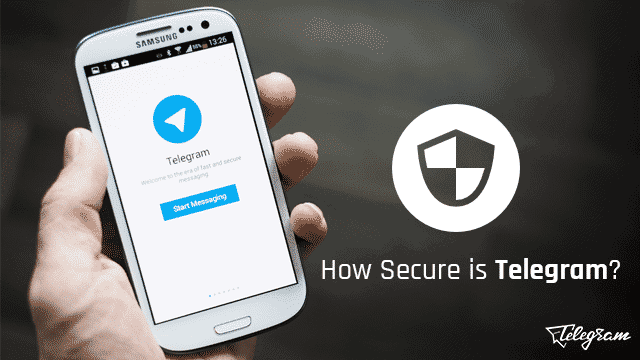 The Telegram messaging app uses MTProto protocol to encrypt the user data, and besides that, there's a huge bonus to all privacy fans: cloud data storing and end-to-end encryption by request.
Apart from that the most known security-providing feature of this app is a two-layered encryption system that keeps user data private and safe forever from anyone, even the governments.
Security Features of Telegram Messenger
As I have already discussed with you some of the essential security features of the Telegram app; from that, you can easily predict how Telegram is the most secure app in the messaging app world.
However, I am listing below the remaining security features of Telegram. Before started, don't forget to check the comparison in between WhatsApp vs Telegram.
1. Secret Chat: It has a secret chat, where you can destroy your chat after the conversation or it will be automatically deleted if you set the time in the chat.
2. Encryption: Where other messaging apps have two layers of encryption, here Telegram has three layers of encryption which makes it more secure than others.
3. Password: Here you can set a password in the Telegram app
4. Protocol: Telegram uses MTProto protocol to encrypt the user data.
5. Also, it has other features like Cloud data storage and end-to-end encryption by request.
Is Telegram Really Secure?
Having a lot of security features also Telegram is still having some issues as reported by the well-known security researcher known as "the Grugq".
From his past experience pointed out that Telegram is still having some problems with it which are making it more prone to be used by terrorists.
Below here we have listed these issues for your better understanding.
1. Error-prone
Telegram's end-to-end encrypted chat feature is not enabled by default. In order to activate it Users have to select Secret Chat before starting any chatting, and also it is not possible to encrypt an existing conversation. Only the new or fresh chat can be encrypted.
2. Contact Theft
Thereby Telegram requires the user to register a working phone number and also it uploads the entire Contacts database to its servers, which in return is helping to create a trail of breadcrumbs for any law enforcement and other investigators to follow the user if required. That to the users are not aware of it.
As a result "This will allow Telegram to build a huge social network map of all its users and how they know each other," stated by Grugq.
3. Leak Voluminous Metadata
As the users are using a mobile phone and the use of it can expose a wide range of metadata. So even if secure chat is enabled, the law enforcement can easily collect other Metadata for sure by compromising the servers.
Though it is not at all that easy to execute, there is a probability for the same to happen.
From the Metadata, it could help them to track down the caller and the recipient (who talked to whom), also they can collect the time, location, which will be enough information for agencies seeking possible suspects.
For Example, If A and B are communicating with each other on an encrypted channel, and A is on the suspect list of agencies, then they can at least figure out the connection between both using this Metadata. This may be an added benefit for the investigation agency but it is a disadvantage for the Telegram user.
4. Wonky Homebrew Encryption
Regarding the encryption which is used by Telegram, some security experts are worried as that encryption hasn't been publicly broken, when there is other proven and effective encryption already present.
Also, Telegram has announced a contest to crack the app's encryption with prize money of $300,000, but till now nobody has claimed it.
However, when it comes to nation-state adversary, one just cannot trust encryption protection in Telegram, as the app might be useful for the average user security, but it is not secure enough against terrorists.
What We Think
Apart from having a lot of controversies still Telegram app is one of the most secure apps at present. The Source code for the desktop and mobile app versions of Telegram is available for download.
As per the Telegram developers say this code allows researchers to evaluate the messenger's encryption protocol. This shows that the Telegram team is open to suggestions and also to make it better.
Hope you like the post about how secure is Telegram? Our team members in Telegram Guide are always working hard to provide you with the best possible resource on a given topic.
Please support us by sharing the knowledge with others. As awareness increases when it is shared. Also if you have anything to share with us, then please comment on us, and we will be more than happy to answer your queries.