What is a Secret Chat in Telegram?
Telegram Secret Chat provides highly secure messaging as these are not stored in the cloud storage. Let's know more about it.
Do you know what is a Secret Chat in Telegram Messenger? You may be using Telegram Messenger since a long time back but I am sure you may not be knowing all about this amazing feature called Secret Chat which is one of the vital reasons why the Telegram Messenger App is having such popularity among its competitors.
As per Telegram officials, the secret chat feature which is present in the app is way more secure than the regular chats. Also here except for the sender and the recipient, nobody ya nobody can read the messages sent. Which I think is quite a feature.
Here in this article, we are going to explore the known features of this amazing Secret Chat. I am sure that many of you may not have explored the full potential of this awesome App.
So we are here to guide you through this unexplored path and show you how to get the most of the features. So without checking your patience let's get started and get to know all about the Secret Chat in Telegram Messenger.
Messages in Secret Chats can't be forwarded to other users and have a self-destruct timer. Secret Chats are identified by a lock icon next to them.
What is a Secret Chat
Many of us are who are really concerned about secure messaging, who always want our messages should not be hacked or leaked by others.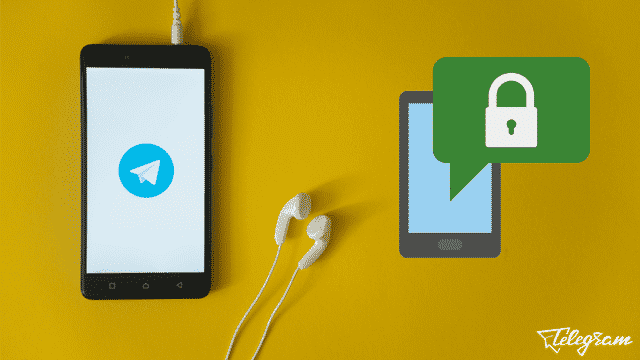 To resolve this situation Telegram has come forward with an amazing feature called Secret chats. This feature has been lacking in Whatsapp. But its availability in Telegram has given it an edge over the other messaging app mainly over Whatsapp.
Here in Telegram, the secret chats are not stored in the cloud like in the regular chats. Rather these Secret chats are stored only on the sender's and the recipient's devices.
Also, to enhance its security the developers have designed it in such a way that no other third party can access your secret chats in the cloud, it also refers that you cannot access your secret chats from other devices also.
Again for extra security, you have the option to even set a time limit upon your choice after which the messages in your secret chats will be deleted from your device and your friend's device.
This characteristic is called Self-destructing messages. Isn't it an amazing thing to do. Surely it is.
If you want to do secret chat with your friends and relatives also you don't want others to see those chats/messages, I think in that case it is a better option there.
Secret Chat's main four Characteristics
It's obvious that Secret Chat is one of the more appealing features of Telegram. But here we are going to explore its main characteristics.
Q: How are secret chats different?
Secret chats are meant for people who want more secrecy than the average fella. All messages in secret chats use end-to-end encryption.
This means only you and the recipient can read those messages — nobody else can decipher them, including us here at Telegram (more on this here).
On top of this, Messages cannot be forwarded from secret chats. And when you delete messages on your side of the conversation, the app on the other side of the secret chat will be ordered to delete them as well.
You can order your messages, photos, videos and files to self-destruct in a set amount of time after they have been read or opened by the recipient. The message will then disappear from both your and your friend's devices.
All secret chats in Telegram are device-specific and are not part of the Telegram cloud. This means you can only access messages in a secret chat from their device of origin. They are safe for as long as your device is safe in your pocket.
Q: How do I start a secret chat?
iOS: Start a new message (tap the icon in the top-right corner in Messages). Then 'New secret chat'.
Android: Swipe right to open the menu, then 'New secret chat'.
Windows Phone: Tap + in the chats list, then 'New secret chat'.
How to Start a Secret Chat
Starting a Secret Chat on your smartphone is a very easy thing but for your convenience, I have tried to explain it you in a simple manner.
In order to start a new message (tap on the icon in the top-right corner in Messages). Then 'New secret chat'.
To start a secret chat, click New Secret Chat → Select Contact
Another Method: On the contact → Click Start Secret Chat
Also here you need to remember one thing that these secret chats are device-specific. If you wish to start a secret chat with a friend on one of your devices, this chat will only be available on that device.
And if you log out from there, then you will also lose all your secret chats here. However, you can create as many different chats with the same contact as you like.
Please note that this Secret Chat will only work if another person is also online.
Also in the Settings, you get an option for self-destructing these chats – where you can easily set when to delete the message automatically based on your choice.
Apart from that Telegram also offers an Encryption key to ensure safe chatting, which naturally increases its Security.
What are Self Destructing Messages
As I have already told you regarding these. The Self-Destruct Timer is available for Secret Сhats. In order to set the timer, go to Secret Chat Info (tap the small picture in the top-right corner of the chat screen), then Set Self-Destruct Timer to the desired time limit.
Here the timer is applied to a message the moment it is displayed on the recipient's screen (two green ticks). As soon as the time runs out, the message disappears from both the devices and leaves no trace.
Please note that photos that are sent with short self-destruct timers like (< 1 minute), it can only be viewed while you're holding your finger over them. Then it vanishes.
Please note that the timer only applies to messages that were sent after the timer was set. It has no effect on the earlier messages.
How to be sure that he doesn't take a screenshot of those chats?
Unfortunately, currently, there is no such full-proof way of detecting screenshots on certain systems (which is most notably, some Android, iOS Windows Phone devices).
But the developers are working hard to bring the feature in the upcoming updates. Still, there are chances to bypass such notifications and take screenshots silently.
Hence it is advised not to share sensitive information with unknown people whom you don't trust. Because after all, nobody can stop a person from taking a picture of their screen with a different device, which is easily possible.
Survey results conducted by EFF (Electronic Frontier Foundation)

Link: https://www.eff.org
Telegram (secret chats)
Encrypted in transit?
Yes
Encrypted so the provider can't read it?
Yes
Can you verify contacts' identities?
Yes
Are past communications secure if your keys are stolen?
Yes
Is the code open to independent review?
Yes
Is security design properly documented?
Yes
Has the code been audited?
Yes
Link:
https://telegram.org/
Star count:
6
What are Telegram Secret Group Chat
Currently, there is only Secret Chat available where the user can only chat with one contact at a time. The Secret Group Chat is not possible as of now, but in the near future, it will be implemented for sure.
In the meantime Telegram has got quite popular, hitting a 100 million user milestone this February and still counting. I can say that Telegram will achieve all the milestones in the near future.
And we will be presenting you with all the latest updates, so stay tuned to the Telegram Guide and be updated about everything related to Telegram Messenger App.
Conclusion
We must tell you that TelegramGuide's mission is to help people learn more about Telegram messenger in every possible way, and we really hope this article helped you.
Now it's time for you to help others, which you can do by sharing this post on social media and letting people know more about Telegram by visiting TelegramGuide.